CAA Style Guidelines
The College Art Association has a series of guidelines (based on the Chicago Manual of Style) for image captions.
Fair Use of Images
Code of best practices in fair use for the visual arts

by

Call Number: Online

Publication Date: 2015

The Code of Best Practices in Fair Use was created with and for the visual arts community. Copyright protects...against unauthorized use by others, but it is subject to a number of exceptions designed to assure space for future creativity. Of these, fair use is the most important and the most flexible....
Light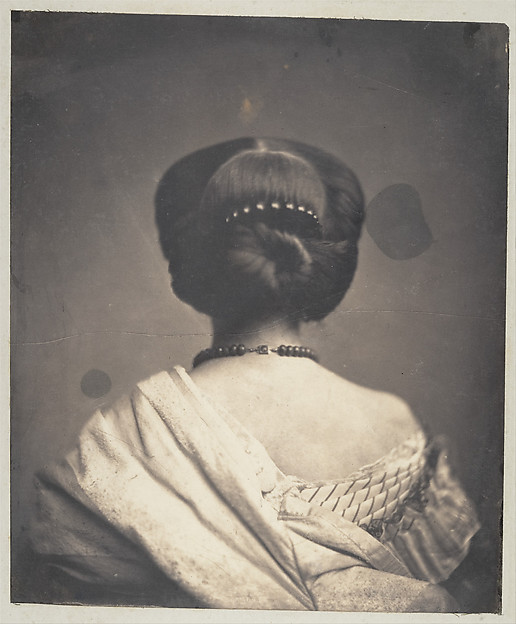 Onésipe Aguado de las Marismas.[Woman seen from the back]. ca. 1862. Salted paper print from glass negative, 30.8 × 25.7 cm. Metropolitan Museum of Art, New York. www.metmuseum.org (accessed Nov. 8, 2017).
Cited Reference Searching
In addition to Google Scholar, a number of subscription databases allow you to track the flow of research by including ways to identify references that cite or are cited by other scholarly sources. This is a quick, although perhaps not comprehensive, way to gauge the impact of individual publications. Consult the Cited Reference Searching guide for detailed instructions in performing cited reference searches.
Tropy for Photo Management
Tropy is a free and open-source tool that allows you to organize and describe photographs of research materials. Like Zotero, it was developed at The Roy Rosenzweig Center for History and New Media at George Mason University. If your plan is to take massive amounts of photos in the archives and need a way to view and organize them at home, this might be the tool for you
Group your photos into documents
Attach descriptive metadata, notes, or transcriptions to your photos
Tag your photos however you want
Search all of your information, notes, and tags
Export your collections to JSON-LD or Omeka-S