Indexes/Bibliographies for Primary Sources
British and American utopian literature, 1516-1985 : an annotated, chronological bibliography

by

Call Number: Library Annex Z2014.U84 S341

Publication Date: Garland, 1988

Galactic Central

"Originally dedicated to bibliographies, specifically those related to science fiction and fantasy authors," the GC website expanded to include fiction content from popular slick magazines and pulps across the subject spectrum. THE place to find reproductions of pulp magazine covers as well.

Guide to supernatural fiction

by

Call Number: Olin Reference Z5917.F3 B641+

Publication Date: Kent State University Press, 1983

Subtitle: a full description of 1,175 books from 1750 to 1960, including ghost stories, weird fiction, stories of supernatural horror, fantasy, Grothic novels, occult fiction, and similar literature.
Includes indexes.

Internet Speculative Fiction Database

"The ISFDB is a community effort to catalog works of science fiction, fantasy, and horror. It links together various types of bibliographic data: author bibliographies, publication bibliographies, award listings, magazine content listings, anthology and collection content listings, and forthcoming books." (Fred's fave; an amazing resource.)

Index to science fiction anthologies and collections

by

Call Number: Olin Reference Z5917.S36 C76+

Publication Date: G.K. Hall, 1978

Covers 2,000 English language anthologies listing 12,000 stories by 2,500 authors published through 1977. Author index, story index, book title index with contents list. Fantasy and horror fiction excluded.

Literature of fantasy : a comprehensive, annotated bibliography of modern fantasy fiction

by

Call Number: Library Annex Z5917.F3 S34

Publication Date: Garland, 1979

"Spans the period from the mid-1850s through mid-1979, and is limited to adult fantasy fiction or to juvenile fantasy fiction that appeals to adults. Only prose titles originally published in English in book form are included, except for a few major foreign language authors who contributed to the Anglo-American literary tradition. In the first section novels and collections are arranged by author, followed by series information with title listings in reading order, and concluding with author bibliographies. Second section identifies anthologies and their contents. Annotations for collections and anthologies are generally limited to a listing of contents. Indexed by author, compiler, editor, translator, and title." (ALA Guide to Reference)

Science fiction and fantasy series and sequels : a bibliography

Call Number: URIS stacks Z5917.S36 C85

Publication Date: Garland 1986

Science fiction, fantasy, and horror film sequels, series, and remakes : an illustrated filmography, with plot synopses and critical commentary

Call Number: Olin stacks PN1995.9.S26 H59x 1997

Publication Date: McFarland, 1997

Covers more than 400 English-language films released theatrically between 1931 and 1995.

Science fiction in America, 1870s-1930s : an annotated bibliography of primary sources

by

Call Number: Library Annex Z1231.F4 S41

Publication Date: Greenwood, 1984

Includes 838 entries for authors published in English in the United States during the period covered.

Science fiction magazine story index, 1926-1995

Call Number: Olin Reference Z5917.S36 M87x 1999

Publication Date: McFarland, 1999

Lists more than 30,000 stories in 5000 issues of 133 magazines. Title index and author indexes.

Science-fiction, the early years : a full description of more than 3,000 science-fiction stories from earliest times to the appearance of the genre magazines in 1930 : with author, title, and motif indexes

by

Call Number: Olin Reference Z5917.S36 B62x 1990

Publication Date: Kent State University Press, 1990

"Describes more than 3,000 short stories, novels, and plays with science fiction elements, from earliest times to 1930...[each entry provides a] bibliography, including previous periodical publications, and a full summary of the story, with historical and critical comments. Author biographical data, where available, accompany each item." (Publisher)

Science-fiction : the Gernsback years : a complete coverage of the genre magazines Amazing, Astounding, Wonder, and others from 1926 through 1936

by

Call Number: Olin stacks PS648.S3 B57x 1998 +

Publication Date: Kent State University Press, 1998

"...covers all the science-fiction printed in the genre magazines--Amazing, Astounding, and Wonder, along with offshoots and minor magazines--from 1926 through 1936, [including] descriptions of all 1,835 stories published during this period, plus bibliographic information. Supplementing this are many useful features: detailed histories of each of the magazines, an issue by issue roster of contents, a technical analysis of the art work, brief authors' biographies, poetry and letter indexes, a theme and motif index of approximately 30,0000 entries, and general indexes." (Publisher)
Special Collections at Cornell
Cover for the first issue of Hugo Gernsback's Amazing Stories, April 1926, by Frank R. Paul, illustrating Wells's In the Days of the Comet. Digital copies of this and many other early issues can be found at http://archive.org/
---
The Division of Rare & Manuscript Collections (RMC) in Kroch Library holds an archive of 76 science fiction magazine titles published from 1946 through 2006, including Analog, Magazine of Fantasy and Science Fiction, Astounding, Isaac Asimov's Science Fiction, Galaxy, Startling Stories, and others. The Finding Aid provides a list of issues.
RMC also has issues from the first four years (1926-1929) of Amazing Stories, the earliest U.S. fiction magazine devoted exclusively to SF, as well as a collection of materials related to Philip K. Dick's Do Androids Dream of Electric Sheep? Scholars of the fantastic will want to explore RMC's Witchcraft Collection.
---

Garrett P. Serviss, pioneering SF author,
Cornell Class of 1872 and writer of Edison's Conquest of Mars, an "unauthorized sequel" to Wells's The War of the Worlds, as well as several other SF novels.
Archival/Manuscript Collections In the Area
The Syracuse University Library's Manuscript Division holds extensive collections of SF/fantasy pulp magazines, publishers' files, and the personal papers of many important writers and editors, including Andre (Alice Mary) Norton, Frederik Pohl, Larry Niven, Robert Silverberg, Forrest J Ackerman, Hugo Gernsback, Kate Wilhelm, Anne McCaffrey, and Roger Zelazny. Finding aids for these collections are online.
The Ithaca College Library is home to the Rod Serling Archives, which includes original television scripts, screenplays, and Serling's six Emmy Awards, as well as photos, films, and books from Serling's personal collection. The noted author and creator of The Twilight Zone was a central NY native.
---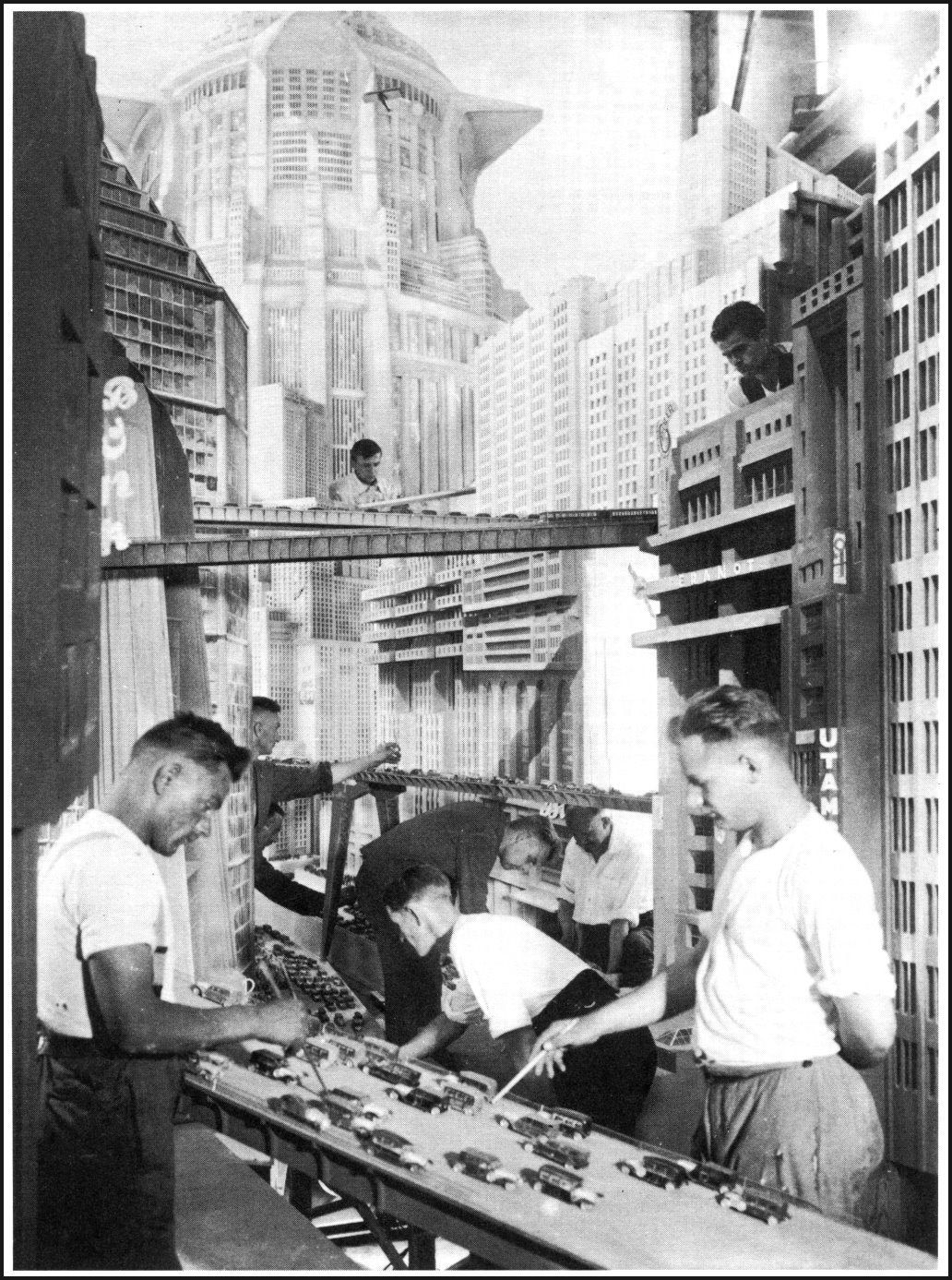 Technicians working on the set miniatures for Fritz Lang's Metropolis (1927).