.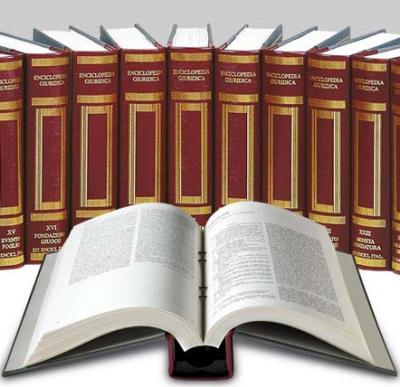 Encyclopedias (enciclopedie)
Grande Dizionario Enciclopedico UTET, fondato da Pietro Fedele.Torino: UTET, c1984-2002, 4. ed. 20 vols. and supplements. Library Annex AE35 G75 1984++

Often abreviated as GDE. The closest thing Italians have to the Encyclopedia Britannica. General Italian-language encyclopedia containing mostly short articles, often signed. Includes bibliographies. Especially strong in Italian history and culture. Illustrated.
Grande Enciclopedia di Roma: Personaggi, Curiosità, Monumenti, Storia, Arte e Folclore della Città Eterna dalle Origini al Duemila a cura di Claudio Rendina. Roma: Newton & Compton, 2000. Olin stacks DG804 G67x 2000+
Grande Enciclopedia della Sardegna: Eventi Storici, Politici e Culturali, Artistici, Letterari, Sportivi, Religiosi ... a cura di Francesco Floris. Roma: Newton & Compton; Cagliari: Edizioni della Torre, 2002. Olin Stacks DG975.S33 G74x 2002+
Enciclopedia delle Religioni in Italia [a cura di] Massimo Introvigne ... [et al.]. Leumann (Torino): Elledici, c2001. Olin stacks BL980.I8 E63z 2001
Encyclopedia of Contemporary Italian Culture, edited by Gino Moliterno. Routledge, 2000. Olin Reference DG450 E53x 2000

Provides "coverage of the diverse forms of post-1945 Italian culture. With over 900 entries by international contributors, this volume is genuinely interdisciplinary in character, treating traditional political, economic, and legal concerns, with a particular emphasis on neglected areas of popular culture. Entries range from short definitions, histories or biographies to longer overviews covering themes, movements, institutions and personalities, from advertising to fascism, and Pirelli to Zeffirelli." [publisher's description]